White Paper
How to Comply with the CPRA
This paper looks at current compliance with the original California Consumer Privacy Act (CCPA) and how organizations are approaching compliance with the California Privacy Rights Act (CPRA), the updated and extended privacy legislation covering data on California residents.
White paper insights include:
Significant changes of the CPRA.
Strategies for compliance with the CPRA.
Methods for classifying sensitive data for data covered by the CPRA.
Current Status with CCPA Compliance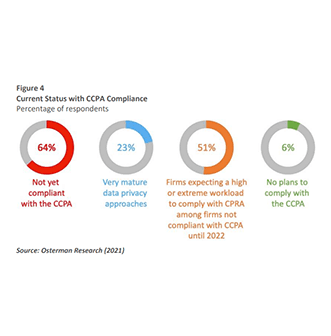 Percentage of respondents for current compliance with CCPA
64% Organizations that are not yet compliant with the initial CCPA.
Learn more:
download the white paper today.