Forrester Total Economic Impact of Continuous Quality Solutions
A new commissioned study conducted by Forrester Consulting on behalf of Micro Focus reveals real benefits and a solid ROI. Download the study to learn about the cost savings and business benefits of Micro Focus Continuous Quality solutions.
Study insights include:
3-Year ROI of 241%.
Up to 40% increase in QA productivity.
35% accelerated time-to-market.
$1 million saved in downtime costs each year.
Over $24 million in benefits within three years.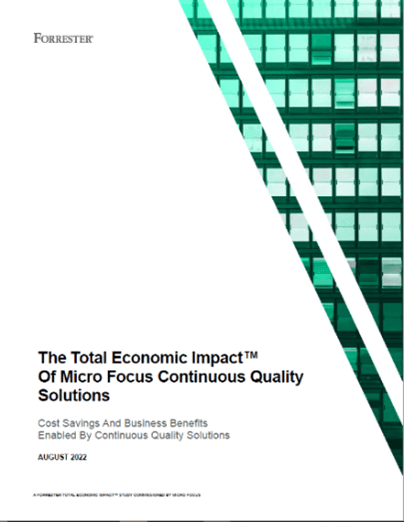 Forrester Total Economic Impact of Continuous Quality Solutions
"Micro Focus tooling enabled us to design new change management process to deploy in the public cloud and we are now 30% faster." – Head of IT, Banking
"The total cost of ownership is important for me. This tooling brings me all the features that I need to automate. I want tooling that can handle anything that we throw at it — any difficult scenarios. This tooling definitely brings us those kinds of values." – Software Quality Manager, FMCG
"The Micro Focus tools help us to improve our quality, and if I am deploying higher-quality applications, I have more availability to service the client." – Head of IT, Banking