Forrester Total Economic Impact of Continuous Quality Solutions
Forrester Total Economic Impact of Continuous Quality Solutions
How healthy is your organization's investment in software quality? A commissioned study conducted by Forrester Consulting on behalf of Micro Focus reveals cost savings and a solid ROI for Micro Focus Continuous Quality solutions. Download the study and discover why organizations benefit the most from a solution that supports automated testing, traceability, and service reliability.
Study insights include:
3-Year ROI of 241%.
40% increase in QA productivity.
35% accelerated time-to-market.
$1 million saved in downtime costs each year.
Over $24 million in benefits within three years.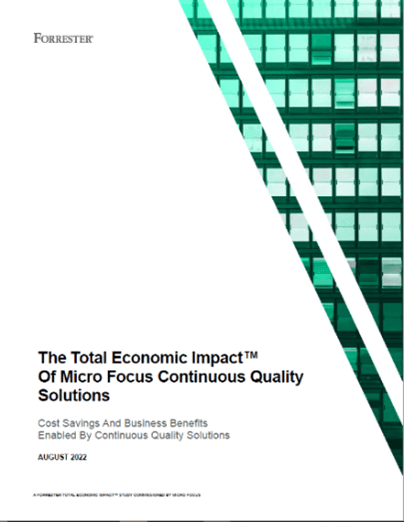 The Total Economic Impact™ of Micro Focus Continuous Quality Solutions highlights:
"Micro Focus tooling enabled us to design new change management process to deploy in the public cloud and we are now 30% faster." – Head of IT, Banking
"The total cost of ownership is important for me. This tooling brings me all the features that I need to automate. I want tooling that can handle anything that we throw at it — any difficult scenarios. This tooling definitely brings us those kinds of values." – Software Quality Manager, FMCG
"The Micro Focus tools help us to improve our quality, and if I am deploying higher-quality applications, I have more availability to service the client." – Head of IT, Banking
Read the study today.
A Forrester Total Economic Study commissioned by Micro Focus, August 2022.